So I am going to have to post twice tonight because I got my first blogging award! I got a versatile blogger award from Nicole over at THE KINDER KID! Thanks Nicole!
So with this award I have some instructions
Now for the rules of this award:
1. Thank the person/people that nominated you and provide a link back to their blog.
2. Share 7 things about yourself.
3. Pass this award along to 15 other blogs that you have discovered
So for #1: Nicole, THANK YOU! I was so excited to see your comment and to see my blog somewhere. It makes me happy that other people are reading what I am writing-and enjoying the stories. So THANK YOU again!
#2:
Thing 1) I have known since I was in the first grade that I wanted to be a teacher. I went home from school-at the beginning of the year- and said to my mom, "I want to be a teacher like Mrs. Bell!" and I NEVER wavered from this because whenever I would think I could do something else I would find something wrong with the profession.
Thing 2) I live 55 minutes from my school. Everyday someone asks me "are you tired of the drive yet?" and I always tell them no. I actually enjoy the drive because it gives me a chance to wake up in the morning and a chance to wind down in the afternoon. So I spend nearly 2 hours a day in the car with the radio on…singing…VERY poorly. I will say that I wouldn't mind having a person to carpool with some days.
Thing 3) (I am bad about talking about myself) When I get stressed or I'm having a bad day I bake. I don't normally eat the things I bake though… strange I know. It's the actual baking process that helps me to relax though. Just knowing that I can make something and have it turn out the way I want it to-something that I have complete control over.
Thing 4) I have a group of friends (there are 7 of us) from jr/hs and before. We call ourselves the "posse" a nickname we acquired in HS. Our lives have led us in all different directions but we still "talk" all the time. Having their support through everything means the world to me.
Thing 5) I have a dog. Her name is Napili-and she is ADORABLE. But the place I am renting now doesn't allow pets-which is one of it's very few downfalls (we have an ocean view after all). But I miss her terribly- even though she is only 15 minutes away.
Thing 6) I am a vegetarian. Have been for about 8ish years. I never really ate meat all that often growing up. But it's not because of the sweet fluffy bunnies or anything like that. I just never really enjoyed the texture. But I have been thinking about trying to reintroduce at least some meat into my diet…But that is not an easy task when your body is not used to having meat in it's system…it will take a while.
Thing 7) I LOVE TEACHING! I am in my first year and I am teaching Kindergarten. I have 24 students all day-meaning 8:30-3:10. Which is a very long day for a 5 year old-I mean it's a long day for me so I can't imagine how long it seems to them. I am teaching in a TINY district. We have two buildings-the elementary school and the jr/sr high school which also houses the district office. And the buildings are right across the street from each other. My kids even go across the street to eat lunch each day.
Now for rule number 3. 15 blogs I have found-these are the ones that I love/read/stalk consistently.
Herding Kats in Kindergarten
Kinder Kraziness
The Clutter Free Classroom
Ms. M's Blog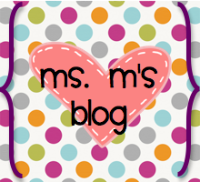 Blog Hoppin'
Life is Better Messy Anyway
http://messyjofu.blogspot.com/
One Extra Degree
Buzzin' on Cupcakes in First Grade
The First Grade Parade
http://thefirstgradeparade.blogspot.com/
Organized Chaos-This was actually the first blog that I followed!
http://welcometoorganizedchaos.blogspot.com/
Castles and Crayons
A Teeny Tiny Teacher-I just love reading her blog!!!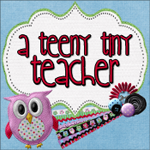 Living a Wonderful Life

The Dream Teacher-I found this blog after reading "Finding Mrs. Warnecke" if you haven't read it yet- It's definitely a MUST read!
http://thedreamteacher.blogspot.com/
So there are 15 of the blogs that I enjoy reading! Hope you enjoy them too!
Thanks again Nicole!