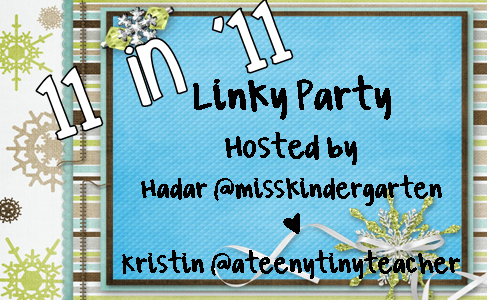 11.
Favorite movie you watched
Well I really liked Captain America but I liked The Help too...And of course the final Harry Potter. I saw a lot of movies this year! Probably more this year alone than in the last 3 years combined. It was fun though. So I guess I just can't make up my mind.
10.
Favorite TV series
Again its hard to choose. Loving Grimm at the moment! If you haven't watched it I definitely suggest you do. It is filmed in Portland, OR-just a short trip from my house. Also The Sing Off-LOVE it! Although this season was not as good as the last one.
9.
Favorite restaurant
I don't really have one of these...I will say that a local restaurant called The Lost Roo has some AWESOME garlic tater tots. Enough said.
8.
Favorite new thing you tried
hmmm...Does Teaching Kindergarten count?! It was new to me and I LOVE it!

7.
Favorite gift you received
hmmm... I am super excited about my Kitchen Aid!!!!! It is silver and gorgeous and I can't wait to use it!
6.
Favorite thing you pinned
Hmmm...I have pinned some awesome ideas but haven't had a chance to do most of them...Loving some of the quotes I have found though.

5.
Favorite blog post
Does it have to be one of mine? Can I just say that any that Kristin wrote are my favorite? They always make me laugh. Especially her Halloween one...

4.
Favorite accomplishment
Getting a teaching job!!!!!
3.
Favorite picture
I take a LOT of pictures. So many that the other day when I went to upload my computer said "The disk for your iphoto is nearly full are you sure you want to upload?" I guess this means that I need to do some backing up and deleting...not my favorite thing to do. I will just go with a recent picture so I don't spend the next 3 hours searching through my 25,000 pictures.

This is "The Tribe" we have Christmas Eve together every year. There is one new person in the picture and we are missing two others but it was a FABULOUS Christmas Eve.
2.
Favorite memory
hmmm...Again there are lots of those. Graduating college, getting my first real job, actually moving out, Christmas eve, going to the Reckless Kelly concert, awesome bull riding event, getting very good marks on my first formal observation, and so so so many more.
1.
Goal for 2012
Hug more
Read more books
Keep myself organized because it drives me NUTS when I am disorganized but it happens so quickly!
There are my 11 in 11. Linking up...now.